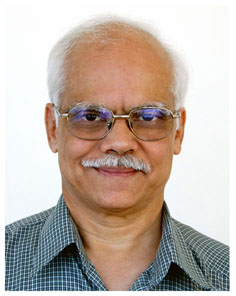 Dear Members of our Society,
Greetings to all for the year 2018-19.
I thank the members for electing me the President of the year.
Our Neuropathology Society is strengthening the footprint and has conducted three National Conferences with international participation of scientists.
Neuropathology as a branch though initially got recognition internationally in the field of Neuro-oncology, now it has a wider reach to include neurodegeneration, cerebral ischemia, infections of the nervous system, developmental disorders, pediatric neurology and some more branches to add.  Molecular Biology is widely used in Neuro-oncology because of wider appeal and rapid strides made in the technology.  Now this has found application in neuroinfections, developmental disorders etc.  It is time that we embrace these fields and bring them into the field of Neuropathology Society of India and nurure them.
Tissue Banking is the catchword in Biology in view of larger application in directing he future research.  The Neuropathologists in India are making attempts to establish Biobanks feasible at their centers.  it is time that we develop a network system to share the material and enhance the knowledge.  India because of high population and ethnic variablility, we are in a position to harness this for the promotion of Neuropathology and Neuoscience at large.  That is how we work together to widen the field in future with the participation of various neuroscientists and neuropathologists.  It is sharing that material and the knowledge that will take us further than confining ourselves to a few islands of excellence.  'Let us join hands'.
God bless the Neuropathology Society in its endevour.
Dr.S.K.Shankar
President