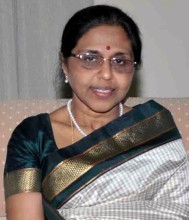 Dear All, 
It is truly an honour for me to serve as the President of the Neuropathology Society of India (NPSI) and I thank all the members of NPSI for giving me this opportunity. I must congratulate my immediate predecessor Dr Challa Sundaram for her outstanding leadership as President for last two and half years. I am also grateful to all the preceding Presidents and other office bearers of the Executive committee of NPSI for contributing to the growth and progress of the society. I will try my best to carry forward the good work of my predecessors and take our society to greater heights.  I look forward to working with the new dynamic NPSI executive committee to charter a course & 'steer the ship'.
NPSI is now a well-recognised society and continues to provide a pivotal platform for the dissemination of Neuropathology knowledge. The society has gained strength with steady increase in life memberships. As a result of the hard work, dedication & perseverance of my predecessors and all NPSI members, the society has been remarkably effective in taking up several key initiatives. I sincerely hope that we can contribute further to these initiatives to build on this foundation to serve the society.
Over the last six years the annual meetings of the society have hosted a galaxy of international and national faculty. The society has thus gained widespread international recognition within a short span. It was very inspiring to see that our society was able to have an excellent virtual international meeting AOCN – NPSICON 2021. I would like to congratulate as well as thank the organisers for this extraordinary effort of organising this conference. The quality of the meeting with the participation of international and national experts in diverse fields of Neuropathology reflects on the dynamism of our society. 
The activity of the NPSI should not be restricted to its annual conference. We should continue our activities throughout the year and across the country. The webinars and the Traveling School of Neuropathology, which have been initiated already will go a long way in achieving this objective. We should also enhance postgraduate teaching and training all over the country and involve them more in our educational activities. We must also educate our colleagues from related disciplines and this association should be of mutual benefit. We have diverse expertise in the country and we should work together to widen the field of neuropathology and develop very good inter-institutional and interdisciplinary research.
The socio-economic status of various centres of pathology is highly unbalanced. The inequity of resources between centres for carrying out various special analysis especially molecular tests is a challenge. NPSI should try and facilitate less resourced laboratories in coming up with guidelines to implement recent classifications (tumour, muscle, nerve etc.) that can work for their particular available resources.  NPSI should extend help in adapting cutting edge diagnostic criteria to centres with fewer resources.
The NPSI derives its strengths from the enormous expertise, dedication and excellence of all its members. I urge all of you to remain or become involved in the activities of our society. We must continue to attract young neuropathologists and trainees for their participation in our society. 
I request all members to kindly provide suggestions on how best we can improve our society and reach our goals. Please feel free to email me if you have proposals to consider regarding new initiatives for the society.
With Best regards and with hopes that you and your family remain safe in these challenging times. 
On behalf of the Executive of the NPSI, I wish you and your family a very Happy Diwali! 
Chitra Sarkar
President, NPSI